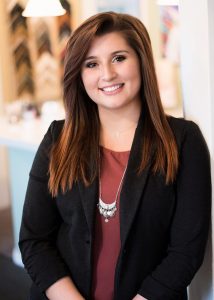 Wednesday March 10, 2021 | Meet Taylor Goldthwait, a Project Engineer with Granger's West Michigan team. Taylor began her journey with Granger as a member of our 2018 Summer Internship class while completing her B.S. in Construction Management at Ferris State University (FSU). Upon graduation from her program in December 2018, Taylor joined Granger full-time as a Project Engineer in the West Michigan market.
Choosing Construction
When asked what first inspired her to pursue a career in the construction industry, Taylor noted that she dove in on a "leap of faith."
"I originally didn't know what my path was going to be when I started college," Taylor said. "I knew I wanted to be in a business program, but I also wanted something more specialized. Architecture had interested me since I was a kid, but I was not 100% sold on committing to that program as my career."
After a semester researching careers and taking exploratory classes, Taylor found the Construction Management program at FSU. This program appeared to be a perfect mix between her proclivity for a business career and her personal interest in architecture. Since then, Taylor noted she hasn't looked back.
"I took a class my first semester called 'Career Exploration.' It was taught by Will Gasper (now retired). Professor Will encouraged self-reflection and pushed us (students) to discover what makes us happy. He never focused on the money aspects, instead promoting the importance of finding personal fulfilment in our careers. Professor Will never had his own agenda in regards to student life direction; it was all about our personal choices. He truly cared about us and our well beings. He is such a kind soul. This class was very interpersonal and will remain one of the most memorable classes from my time at Ferris State."
Favorite Aspects of the Job
"On my projects, I handle the change management process, submittals, RFIs, document management, daily photography, schedule updates, owner correspondence and invoice management," Taylor noted.
"I enjoy the daily challenges and the collaboration necessary for solving complex problems with the project team. It is so gratifying to come together on a really difficult problem, brainstorm and work through it, then finally get that AH-HA light bulb moment."
Taylor added that she also enjoys creating lasting and productive relationships with clients and trade partners.
"Being able to call a client or a trade partner and have a friendly conversation is a great feeling. It's all about creating trust."
"One finale aspect of the job I like best is how I'm always learning something new," Taylor continued. "No one enters the industry knowing everything about building and construction. This can be intimidating, especially as a young woman. However, I have always been amazed by how much just asking questions and having a true interest in the work will help you gain knowledge of the industry and respect of your colleagues. I have learned so much about how the building parts and pieces come together. There is not a day I am not learning something new."
Advice to Future Interns
As a former participant in Granger's Summer Internship Program, Taylor offered the following words of advice to future students or individuals interesting in joining the construction industry:
Speak up and don't be shy. We are here to help you learn! If you need more work/responsibilities, ask.
Show up to work emotionally, physically and mentally ready for the day's tasks.
Ask for help. If you don't understand a process or activity, ask someone for clarification or guidance. Just about everyone you ask will be more than happy to assist.
Be motivated, show interest in learning, and especially push to learn how building materials integrate with one another and how trade work is sequenced.
Fun Facts about Taylor
Outside of work, Taylor has a hobby of painting and arranging wood flower bouquets for weddings of friends and family. She and her husband are the fifth generation to own "the family farm" in Big Rapids, Michigan. Taylor also enjoys golfing, and has been doing so since ninth-grade.
Taylor was a recent member of the Chippewa Champions Project team, which won a Granger Construction 2020 Project Performance Award.