As Granger Construction continues to grow, so does our Summer Internship Program! In 2020, we are excited to welcome back 10 of our 20 interns as returning students. In the following interview, Marketing Intern Alaina Schrauben interviews Project Engineer Intern Angelo Barnes on his experience with Granger so far.
Name: Angelo Barnes
School: Eastern Michigan University
Major: Construction Management
Internship Assignment: Eastern Michigan Recreation/IM Building Renovations
Number of Summers with Granger: 2
Q: What is something you learned last year that better prepared you for this year?
A: Last year, I spent an immense amount of time watching laborers and tradesmen perform work. While I watched, I asked many questions. I wanted to better understand everything happening in the construction process. I kept my eyes and ears open, and was able to gain a lot of new technical knowledge. This learning process has enabled me to speak the "construction language" more comfortably and fluently with subcontractors. I also feel more knowledgeable about the entire project process, and more effective on the job.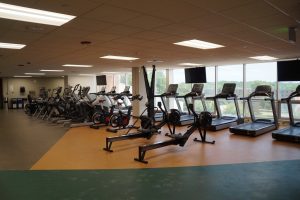 Q: What do you enjoy most about being on site?
A: I like the ever-changing environment and encounters on site. There are so many different kinds of people, and getting to know and work with them has allowed me to learn a lot about managing a project. I also enjoy the energy of the construction site. Everyone wants to be there and get work done, which makes it more enjoyable. I like watching the construction drawings come to life, and am given ample opportunities to think outside the box.
Q: How has your internship experience with Granger helped with your school studies?
A: This year, I started my basic estimating courses at Eastern Michigan University. Much of the coursework focused on estimating, and I realized my internship experience with Granger really gave me a head start with the lessons. Had I not interned with Granger, I would not have known how to read any of the drawings or understood the technical components. While my internship with Granger began last summer, it continued throughout the school year, and I learned so much from this ongoing experience.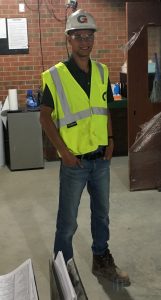 Q: What motivated you to continue interning with Granger?
A: I love Granger! This is the best job I have ever had, and I am only an intern. I have enjoyed every second of coming to work over the past year and learning as much as I can from my project team. I also chose Granger again because of their leadership in the construction industry. They are one of the most important and socially-responsible companies in the Lansing area, where I was born and raised.
Q: What piece of advice would you give to new interns?
A: I have multiple pieces of advice. First, watch the tradesmen and laborers work; do not be afraid to ask questions. Second, be helpful and useful. Do things without being asked, such as taking out the trash or sweeping the floor. It is the little things that help the project team. Lastly, do not be shy. Talk to your project team and subcontractors. Construction, like many other businesses, is deeply rooted in relationships.
Q: If you could take a dream vacation this summer, where would you go?
A:  I have already taken a dream vacation this summer, as I do every year. My family owns a cottage in Luce County in Michigan's Upper Peninsula (20 minutes southwest of Newberry). We have a big celebration every year on the 4th of July, and I always look forward to it!