Granger Construction has a long-running intern program, employing college students in the office and on-site at various projects. Throughout the summer, we'll introduce you to our 2017 Granger interns!
Name: Sean Rousseau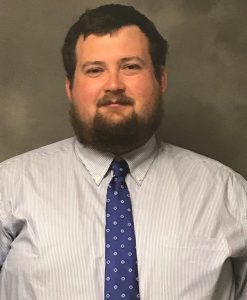 Hometown: Oscoda, Michigan
School: Ferris State University
Field of study: Construction Management
Year at school: Senior
How did you decide on your field of study? After the completion of my Associates Degree in Concrete Technology, I worked in the concrete field, thus solidifying my need for further education within the construction field.
Favorite experience(s) from school: My favorite experience is overcoming academic challenges.
After graduation/Career plans: I want to become a Project Engineer and pursue a Superintendent position.
What Granger project are you working at (name/location)? I am working at Wexford County Jail and the new Sheriff's office in Cadillac.
Why did you want to intern with Granger? I wanted to intern with Granger Construction due to their commitment to their internship program and the pride they have from it, taking the time to teach real world applications as well as being assigned tasks that are crucial to the completion of the project.
What are you most excited to learn about or do during your internship? I am most excited to learn how jobs operate and be able to see my project progress from slab to roof.
What has been your favorite/most meaningful experience so far in your internship? My favorite experience is being able to see how all facets of construction rely and depend on one another to finish a job as large as Wexford County Jail. The coordination that goes into that is very interesting to me. I also like to learn about all of the individual trades from the myriad of sub-contractors that are on site.
What have been the biggest challenges so far/what do you think will be the biggest challenge? Scheduling and coordination between trades are probably the biggest challenges that I have encountered while working on this job. Being the first job of this size, for myself, it is a challenge to see how all of the work goes together and the timing of that work to ensure a successful and timely project.
How do you think this internship will impact your future goals? This internship will impact my future goals by showing me a positive working experience and a wealth of knowledge about my field of study. Being a more visual learner, I have had the opportunity to witness all types of work that I had only read or been taught. I want to further my education and make myself an asset in this industry, and I feel this opportunity will allow me to do just that.
Fun fact about yourself: I make my own fishing floats.